Water Cooling vs. Immersion Cooling
The Ultimate Guide on How Water Cooling is the Better Choice for Miners
As the competition to mine bitcoin heats up, miners are turning to innovative technologies to keep their edge. One way to do this is by using a cooling system that can help push the performance of mining rigs without overheating. Rigs are designed with high-velocity fans that force airflow across the miner rigs' internal ASICs to keep them cool. But as mining difficulty increases and the rigs get packed closer together, hot air gets trapped and circulated back through the system, leading to higher temperatures and lower efficiency. Additionally, as miners are overclocked in the quest for performance, more heat is transferred into the air – again, leading to higher temperatures and lower efficiency. If the rigs are kept cool, the energy expended in each hash calculation goes down while profits go up.
From Scott's Mining Conference to Bitcoin 2022, immersion cooling companies pitch their technology as the best way to cool mining rigs. But is immersion cooling the best option for miners? Water cooling, typically utilized in high-performance servers and gaming PCs, is more efficient and higher-performing than immersion cooling and is becoming more popular among bitcoin miners. While these liquid cooling methods are effective, water cooling is gaining popularity as the simple, scalable, and sustainable liquid cooling method for miners. Below we'll define each cooling technology and discuss the top five reasons why water cooling can be the best choice for bitcoin miners.
What is immersion cooling?
Immersion cooling, also called liquid submersion cooling, submerges mining rigs in a thermally conductive liquid bath, typically dielectric oil. The heat generated by the rigs is transferred to the dielectric oil, which dissipates the heat away from the equipment. The oil is circulated using pumps, and heat is removed from the system using external radiators and fans. Immersion cooling, like water cooling, extends the lifetime of the mining rig, lowers e-waste, allows overclocking, and enables heat reuse. However, immersion cooling has its drawbacks; it's more expensive than most other efficient cooling alternatives, can be challenging to deploy at scale, and when miners inevitably require maintenance, it takes time to clean off the oil.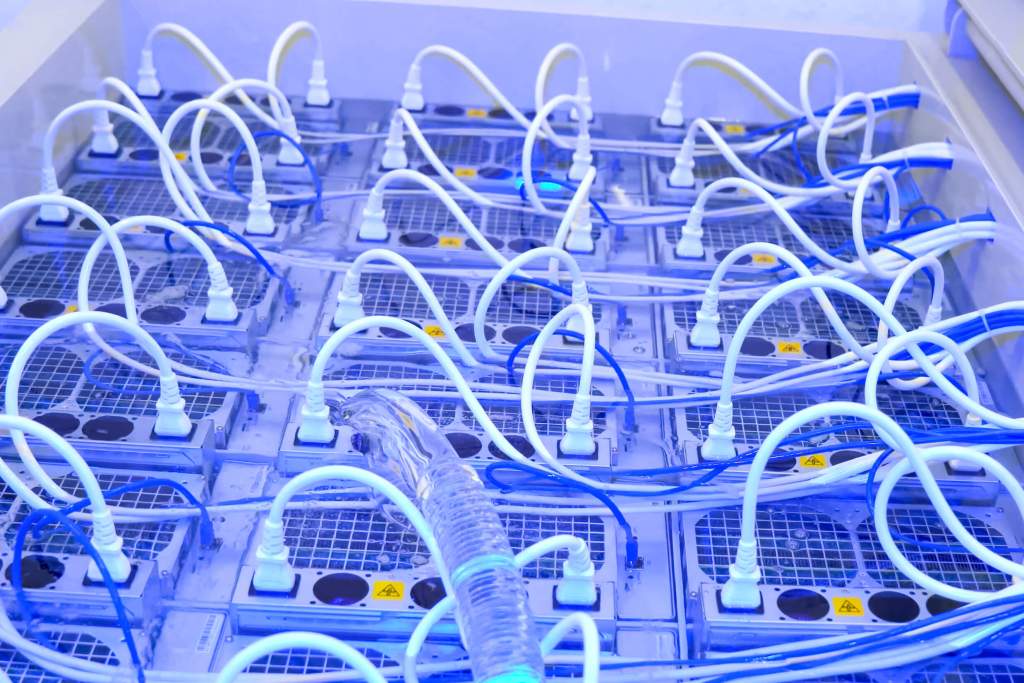 What is closed-loop water cooling?
On the other hand, closed-loop water cooling circulates coolant, typically water and glycol, through a water block or cooling plate, transferring heat away from the hashboards. A typical closed-loop water-cooled system consists of a water block affixed to the hashboard; tubing that carries the water to and from the blocks; a radiator that dissipates the heat; a water pump that circulates the water; and a reservoir that holds the circulating water. Unlike typical heat sinks or cold plates that pass fluid over a surface, closed-loop water cooling with microconvective cooling® uses arrays of fluid jets to cool the ASICs right where the heat is generated, resulting in unprecedented performance and unmatched temperature uniformity.
Compared to immersion, water cooling with microconvective cooling™ technology enables enhanced overclocking, halves energy expenses for cooling, and practically eliminates fluid costs. Many industries with similar requirements, such as data centers and high-performance computing, have chosen water cooling over immersion to help reduce overall OPEX and energy costs. However, while highly effective for hashboards, closed-loop water cooling typically is not used for the power supplies – retaining the air cooling on these lower power modules. Here are the top five reasons why water cooling is the best choice for bitcoin miners.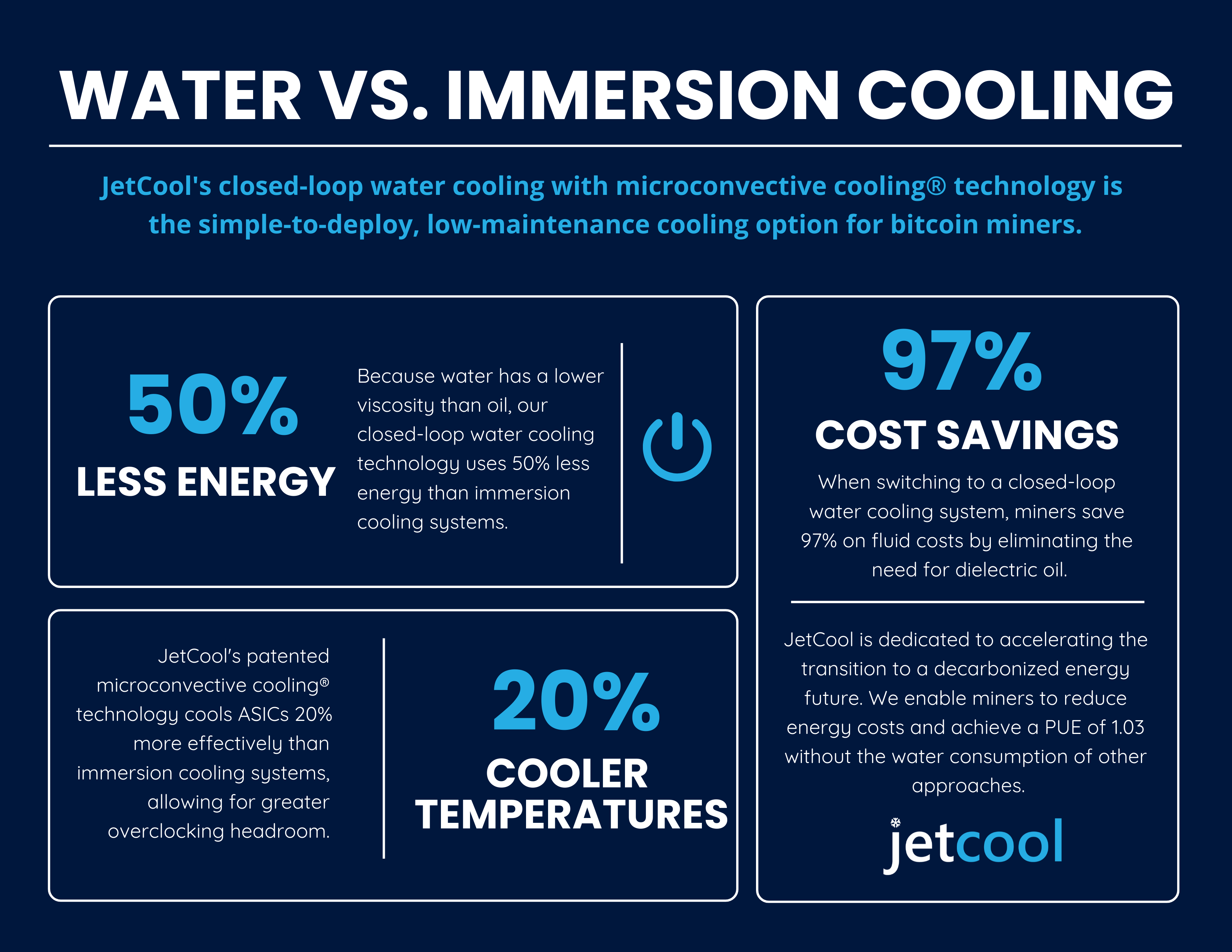 Reason #01: Water Cooling Is Higher Performing, Enabling Enhanced Overclocking
Water has significantly higher thermal conductivity than immersion fluids, 4.5X higher in fact, which results in improved performance. As a result, closed-loop water-cooled systems that use microconvective cooling technology enable mining rigs to run 20% cooler and perform better than those cooled by immersion cooling. The rigs' lower operating temperatures allow for increased headroom for overclocking, resulting in greater hash rates and profits. Alternatively, higher performance can be used to lower ASIC temperatures. This results in longer rig lifetimes and extends the utility and profitability of the investments made in mining farms.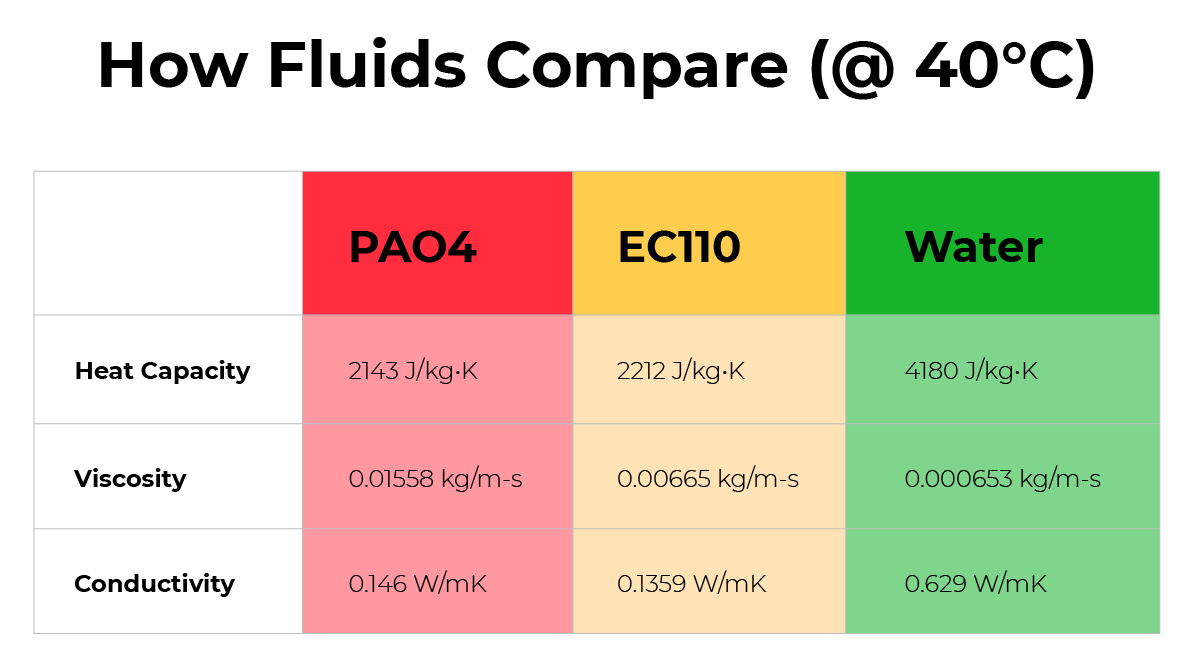 Reason #02: Water Cooling is More Efficient than Immersion Cooling
Another advantage of closed-loop water cooling is that it's more energy-efficient than immersion cooling. Water has a higher heat capacity, 2X higher than dielectric oils, allowing it to carry away more heat with modest flows. Viscosity is another important consideration. Oil is 10x more viscous than water, so it doesn't flow as easily, and the pumps needed to circulate the oil have to be stronger and more powerful than water pumps. As a result, immersion cooling systems require more energy to operate. In fact, water cooling with microconvective cooling™ uses 50% less energy than immersion cooling systems. When you use less energy, you save money on your electric bill and reduce your operating costs. With miners always on the lookout to cut mining costs, every little bit of efficiency counts.
Reason #03: Water Cooling is More Affordable than Immersion Cooling
In addition to being more energy-efficient, water cooling is also more cost-effective than immersion cooling. Closed-loop water cooling systems use only a few gallons of water throughout the system's lifetime compared to hundreds of liters of dielectric oil. Because of this, the fluid costs of closed-loop water cooling systems are 97% less than immersion cooling systems. Additionally, water-cooling systems using microconvective cooling™ technology have a smaller footprint and require less space than immersion cooling systems. This is important for miners who are often working with limited space. As a result, water cooling provides CapEx savings because it is more simple and more affordable to deploy and OpEx savings because it is more energy-efficient. Overall, water cooling is the better choice for miners seeking to improve their efficiency and bottom line.
Reason #04: Water Cooling is More Scalable and Flexible than Immersion Cooling
When it comes to large-scale mining operations, water cooling is much more scalable than immersion cooling, enabling miners to adopt liquid cooling in an air-cooled form factor, creating high-density deployments. Water cooling systems using microconvective cooling™ technology can be deployed modularly, allowing miners to expand their operations as needed. This is not the case with immersion cooling, which is more difficult and expensive to scale. As a result, water cooling provides miners with the simple-to-install, flexible, and scalable solution needed to grow their businesses.
For miners seeking cheaper power, this flexibility is important because it allows them to deploy in areas with lower energy costs. For miners on the move, immersion cooling is not an option because the tanks are too large and bulky to move. Oil-filled tanks don't travel well. With its smaller footprint and portability, water cooling offers miners the flexibility to take advantage of cheaper power.
Reason #05: Water Cooling is More Sustainable than Immersion Cooling
The last reason water cooling is the best choice for bitcoin miners is that it's more sustainable than immersion cooling. From an environmental standpoint, water cools much more efficiently than oil, requiring less energy to run. Water is also a renewable resource, while oil is not. Many oil-based coolants are made from petroleum or petroleum byproducts, a non-renewable resource, and when they leak, they can contaminate soil and water. Water-based coolants, on the other hand, are non-toxic and biodegradable. Moreover, water can be sourced locally almost anywhere, eliminating the need for trucking tens of thousands of pounds of heavy oils across the country. When you choose water cooling, you're choosing a system with a smaller environmental impact. Miners interested in using ESG-focused (environmental, social, and governance) technology to improve their operations and community reputation should consider water cooling to improve energy efficiency, reduce emissions, and protect the environment.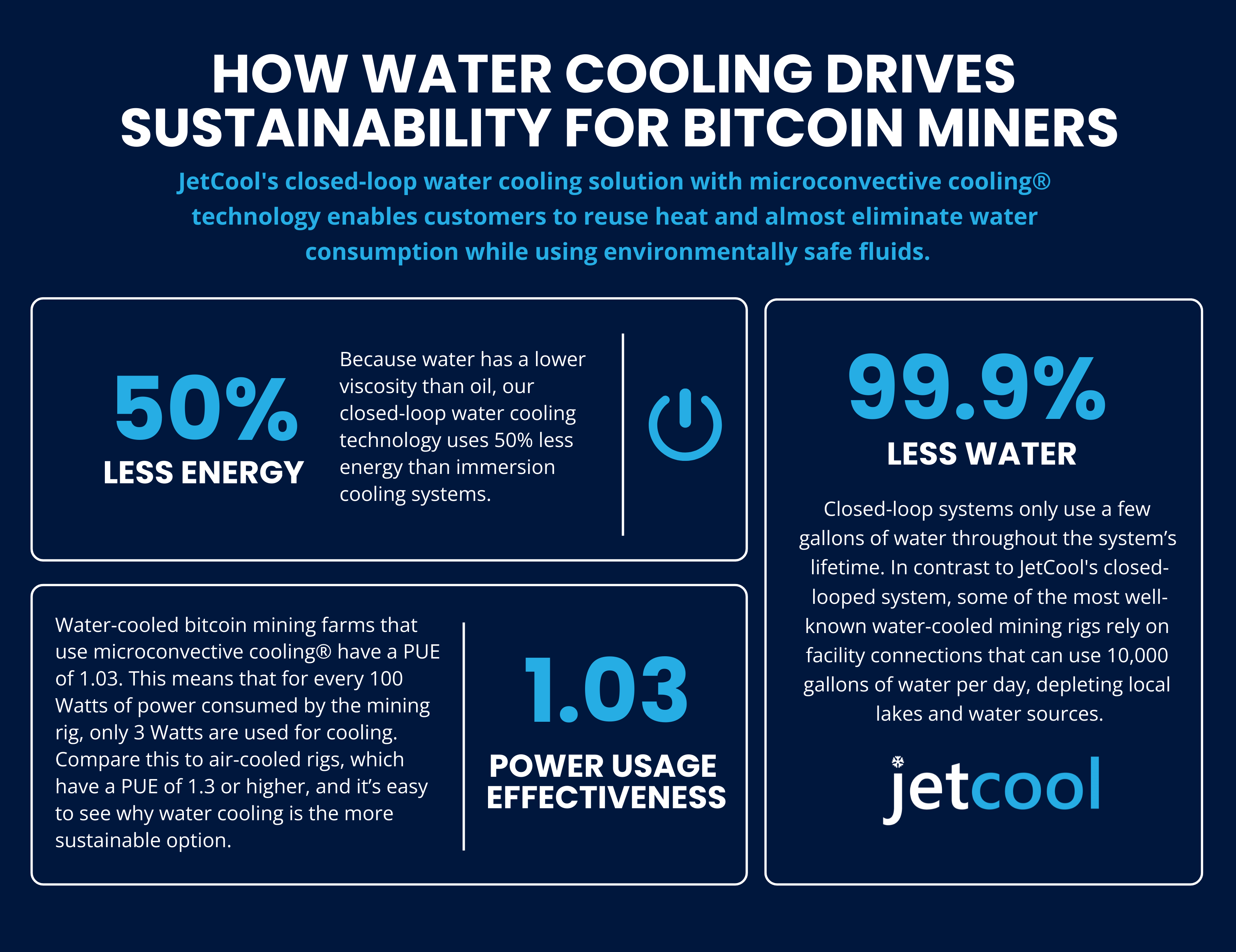 Considerations: AI/ML's Influence on Cryptocurrency
The commercialization of AI/ML technologies through ChatGPT is sending shockwaves through the cryptocurrency market. AI technologies like ChatGPT are predicted to help streamline basic operations in blockchain development and write software primitives crucial for DeFi, NFT use cases, running full nodes, and checking blockchain status.
However, in the wake of the FTX collapse, AI/ML commercialization is also sparking interest in mining enterprises to expand their revenue stream to HPC applications. According to Coin Telegraph, mining firm Hut 8 is already leveraging formerly mining-dedicated compute facilities for machine learning and other HPC applications. Similarly, HIVE Blockchain has been filling its servers with processor cards that "can be used for cloud computing and AI applications, and rendering for engineering applications, in addition to scientific modelling of fluid dynamics." Unfortunately, AI workloads tend to densify compute requiring innovative cooling solutions to maintain optimal performance. Luckily, enterprises looking to maintain a presence in both the HPC and blockchain markets alike can leverage liquid cooling to unlock performance and sustainability gains over their competitors.
Unlock the Benefits of Water Cooling
As the mining industry becomes more competitive, miners are looking for ways to improve their efficiency and bottom line. Water cooling is more efficient than air and immersion; it's more scalable and flexible, enables enhanced overclocking, and is more sustainable. Although immersion cooling has made waves in the mining industry, the expense, complexity, and risk make it a less attractive option for miners when evaluated holistically. Water cooling is the best choice for miners seeking to improve their operations.