What is microconvective cooling™?
JetCool's patented microconvective liquid cooling technology uses arrays of fluid jets to cool the industry's highest power devices. Unlike typical heat sinks or cold plates that pass fluid over a surface, our cooling jets route fluid directly at the surface, creating an order-of-magnitude improvement in heat transfer.
Designed to match die size
Our Competitive Advantage
Transform performance with direct-to-chip cooling.
Our thermal solutions offer exceptional cooling performance for high power electronics at the chip or device level.  Producing a heat transfer coefficient 10x greater than competing approaches, we enable your device to be more powerful, efficient, and compact.
Will it work for my application?
Watch how microconvective cooling™ works.
Our patented fluid-to-package/fluid-to-die cooling techniques cool the device directly and minimize thermal resistance by eliminating all thermal pastes and interface materials. Our microconvective liquid cooling technology is easy to analyze during concept development and even easier to integrate during system build. To learn more, check out our library of technical resources.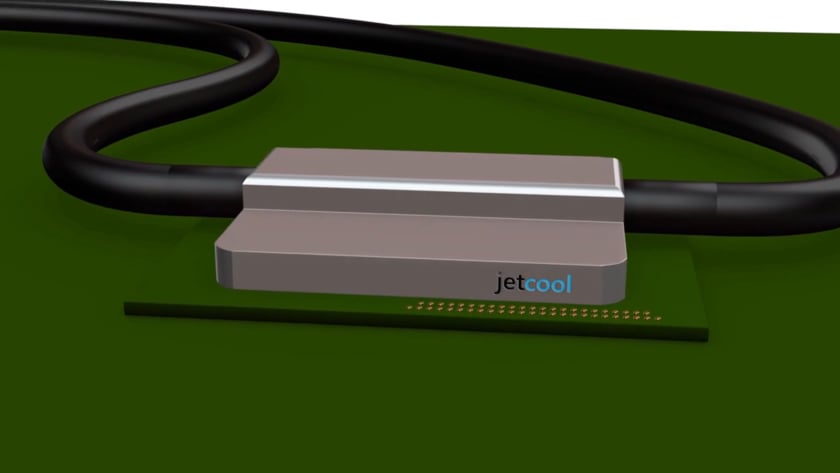 Choose from Bare Die to Full Board Solutions
Our direct-to-chip microconvective liquid cooling solutions are built for the most aggressive devices pushing the limits of performance. We build performance cooling into many high-power devices and device packages. Whether embedded within the substrate, part of the base plate, or as a modular add-on, we can bring you the benefit of better cooling.
Learn more about our family of products for the data center, high-performance computing, blockchain, and electric vehicle markets.